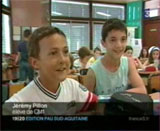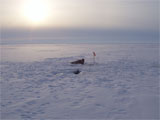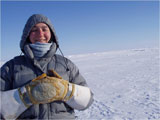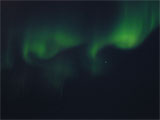 "La carotte de classe? Just because one day a student made a mistake, in fact the student is me" explained Jeremy in front of a French television crew, that came to interview the class… "and instead of writing la carotte de glace (the ice core), you know it is a tube of ice, I wrote la carotte de classe (the classroom core) and we kept it as a title for our book".
In French there is a saying that goes: A carrot helps a stubborn animal (donkey) to move forward.
In 2004, Nathalie Morata, PhD student and native of Pau, France, offers to share her life as a young polar researcher with the elementary school students (9-12y) of Jean-Pierre Laclau, teacher in Lons, France. Nathalie came to the classroom various times to sensitize the children to her polar interests, research, and life as a scientist. She also kept in touch with the children by email during her field work onboard the Canadian icebreaker, the Amundsen, sharing with them her experiences and answering their questions. Curious and constantly seeking knowledge, the students enjoyed letting Nathalie bring them onboard albeit virtually, and worked on class on various questions linked to polar regions, including global warming, ocean preservation, biodiversity, inuit communities and much more.
During an entire year, the academic program of the student has been organized along with the polar adventures with Nathalie. The children called their activities "Operation Nathalie". This educational initiative helped to simulate the motivation of the kids for learning at school. By writing the book "La Carotte de Classe", the students wanted to share their discoveries with all those who had not been lucky enough to have this experience. In fact, in their book, the children transformed themselves in gremlins, accompanying Nathalie in all her adventures in the Arctic. They promoted the book themselves, which was sold to over 300 copies in the region of Pau.
Since then, the book has been presented to scientists and teachers in Canada, US, Spain and Norway. In the current context of global warming, the concern to educate a wide audience has been growing, and "La Carotte de Classe" has been recognized as a relevant and appropriate tool to introduce those thematics to the young. Moreover, its translation in various languages and the bilingual edition will permit to promote language learning in addition to the sensitisation for polar areas.
This site includes a history of "Operation Nathalie", which may serve as a "model" through its educational information and the testimony of the actors. You will also find information to make the "La Carotte de Classe" a book in which you are the "hero" through various editing options (including bilingual), readings tips, and a discussion forum.